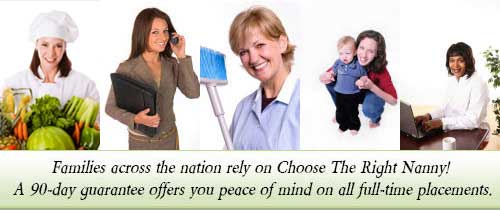 When you experience an unexpected sick child, need backup care, a hotel sitter,
or special event care,
CTR Nanny providers are ready and available.
Need a more permanent care solution? We're here to provide the care you need.
Nanny / Governess
Nannies are in charge of organizing and coordinating the children's activities, preparing their meals and keeping their rooms and play areas clean. He or she may have several years of college or a degree and must have a CPR or First Aid Certificate. Nannies are responsible for the care of children and not housekeeping as a rule. A Governess is a Nanny with education related to childcare or education. The Governess may be responsible for the children's formal education, home school, tutor, educational conferences and private school attendance. They may also be
responsible for purchasing children's clothes and all aspects of childcare when parents are away for extended periods. Nannies and Governesses may live in or out. Annual Salary Range: $20,000 to $100,000+
Baby Nurse / Newborn Care Specialist
The Newborn Care Specialist has years of experience assisting new parents with all aspects of care for a baby. This may include feedings, bathing, washing clothes and keeping the nursery clean. She is not responsible for care for the mother or any household duties outside of the nursery. These tend to be temporary jobs, with NCS usually working 12 or 24-hour shifts for a duration of 2 weeks to 3 months. Salary: $200 to $300+ per day for a singleton.
Infant Care Specialist Description
This individual holds an Infant Care Specialist Certificate and has completed many hours in caring for infants. May provide additional support to parents of infants and may include Sleep Training and Special Needs Care. Salary: $200 to $300 per day.
Night Nanny
These nannies are usually mature, warm, and kind hearted, providing weary parents of newborns with a few precious hours of sleep. They are usually temporary workers and may work 8-10 hour shifts. Salary: $15-$25 per hour.
Maternity Care Specialist / Doula
This is a specialized field wherein the needs of the convalescing mother (preceding or post-partum birth) are met by a knowledgeable care giver with years of experience.  The Doula will assist the mother with her meal preparation, bathing, and preparing for the birth experience.  A Doula is also a lactation specialist and can assist the mother with breastfeeding holds, techniques, and care. These are usually temporary daytime jobs and Doulas typically work 8-10 hour shifts.
Salary: $15-$25 per hour.
Travel Nanny
Travel nannies are usually called upon for temporary service to travel with a family either domestically or internationally for an extended period of time. They are usually more flexible and willing to accommodate a family's needs.
Salary: Depends on the Care Provider.
Summer Nanny
Summer or school vacation nannies are available to assist families with caring for children during holiday from school. These nannies take care of all the needs associated with the children and may include entertainment, subject studies, field trips, transportation to and from camps, and all types of enrichment activities. Hours are typically 30-60 hours per week.
Weekly Salary Range: $400-$1000+
Personal Assistant
A Personal Assistant is responsible for keeping up with the social and professional demands of an employer. Duties may include keeping track of agendas, arranging for reservations, event planning, travel bookings, secretarial responsibilities, shopping and running errands. Annual Salary Range: $50,000 to $110,000+
Family Assistant
A Family Assistant is responsible for keeping up with the social, educational, and personal demands of the family. They are considered an integral part of the parenting team in most families. The Family Assistant maintains a family schedule for appointments, events, travel, shopping, household inventory and running errands as needed.
Annual Salary Range $35,000-$95,000+
Companion
A trusted companion assists his or her employer in a number of ways. A Companion's duties may include driving, traveling with the employer and accompanying him or her to certain events and appointments. Duties may also include some assistance with activities of daily living. This is a non-medical position. Annual Salary Range: $20,000 to $60,000+
Housekeeper
A Housekeeper is in charge of running the home, which may include overseeing other employees, cleaning, doing the laundry, ironing, dusting, silver polishing, vacuuming and running errands. Housekeeper duties may also include some meal preparation and/or childcare duties. Housekeepers may live-in or out. Annual Salary Range: $35,000 to $85,000+
Household Manager / Estate Manager
Primarily a chief administrator, the Estate or Household Manager assumes a leadership role for managing the staff and services for one or more homes. This may include interviewing and supervising all contractors, attending to the proper care of automobiles, wine cellar and other functions and managing accounts. Annual Salary Range: $60,000 to $160,000+
Property Caretaker
A Caretaker has full charge of the outside and inside maintenance of the home. Duties may include painting, gardening, plumbing, and carpentry, overseeing workmen and scheduling annual repairs. A Caretaker also oversees the care and repair of the automobiles and other maintenance equipment.  Annual Salary Range: $40,000 to $100,000+
Domestic Couples
Domestic Couples are usually a married couple. One person is responsible for the cleaning, cooking, shopping, menu planning, laundry, serving and overseeing the daily activities of the house. The other person is responsible for the outside grounds, gardening, light maintenance, repair and maintenance of machinery and automobile care. This is typically a live-in situation.  Annual Salary Range: $75,000 to $150,000+